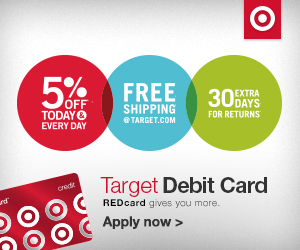 Apply now for TargetREDcard to avail
5% off today and everyday! Free shipping at target.com website and 30 days extra for returns.
Claim your Vetz Petz free 14 day supply. Vetz Petz™ Antinol® is the Proven Fast-Acting Supplement for your Dog's Joint Health. Claim here.
Don't forget to LIKE us on facebook and SHARE post for your friends. Take note that Freebiehouse is also giving away Free Lazy Couponing Guide (value of $17) all you need to do is sign up for our daily newsletters. Enjoy!
Pin It